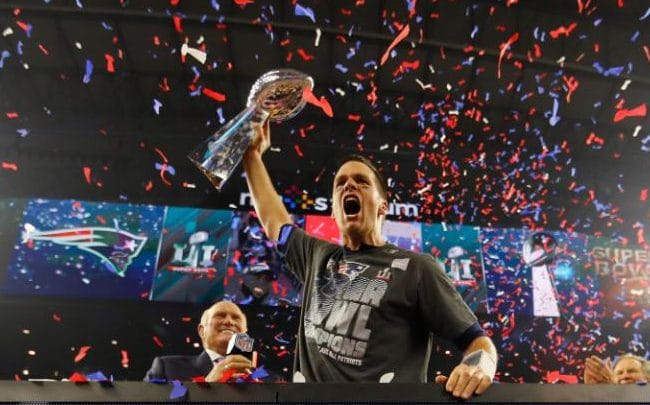 T
om Brady led one of the greatest comebacks in sports history, lifting New England from a 25-point hole to the Patriots' fifth NFL championship in the first Super Bowl overtime.
The Patriots scored 19 points in the final quarter, including a pair of 2-point conversions, then marched relentlessly to James White's 2-yard touchdown run in overtime to beat the Atlanta Falcons 34-28 on Sunday night.
B
rady, the first quarterback with five Super Bowl rings, guided the Patriots (17-2) through a tiring Atlanta defence for fourth-quarter touchdowns on a 6-yard pass to Danny Amendola and a 1-yard run by White, which came with 57 seconds remaining in regulation. White ran for the first 2-pointer and Amendola did the deed with a reception on the second.
B
rady, winning Super Bowl MVP for a record fourth-time, finished 43 for 62, the most attempts in Super Bowl history, for 466 yards, also a record, and two touchdowns.
"You know, we all brought each other back," Brady said. "We never felt out of it. It was a tough battle. They have a great team. I give them a lot of credit. We just made a few more plays than them."
Source:
The Telegraph