Friday, September 16, 2016
With the final days of Summer upon us I think it is important to carry on an endless summer mentality. If that means good vibes and fun days to carry on in your head then do so. Even if it is the middle of say November.
That was the feeling I had when photographing Savannah K. last week. With the weather in Los Angeles still feeling like the middle of July rather than the middle of September we decided to utilize the pool of the location I had rented for our shoot.It was just fun photographing her swimming around and trying to figure out what to shoot. So soak in the images below and remember just because Summer is over in the seasonal sense doesn't mean you can't keep it in mind.
Thursday, September 15, 2016
Yesterday
adidas said the Yeezy Boost cleats were coming soon
and the Three Stripes is making good on its word: after
debuting on the feet of Houston Texans receiver DeAndre Hopkins
this past weekend, the cleated version of the Yeezy Boost 350 is officially releasing to the public this Thursday, September 15, according to
adi's official Twitter account
.
While there's no word yet on the corresponding 750 (which
Von Miller revealed
ahead of last week's Thursday night victory over the Panthers), the fact that adidas officially took the wraps off of the shoe means it's likely coming sooner rather than later.
As for the 350, release details outside of the date itself remain unknown, but the cleats are expected to retail for $250 USD and drop exclusively in the United States at
adidas.com
.
The NFL Bans Kanye West's Yeezy Cleats
DeAndre Hopkins was fined $6,000 USD for wearing them on the field.
Kanye West and
adidas
recently released a "Turtle Dove" Yeezy 350 and 750 in cleat form. The shoes were first
debuted by
DeAndre Hopkins, but it looks as if the NFL has banned wearing the shoe on the field. The league has also fined Hopkins $6,000 USD for rocking them because they don't abide by the NFL's uniform policy that cleats have to have a solid base color. Hopkins told
ESPN
that he will refrain from wearing the Yeezy cleats in the future, unless "Kanye wants to pay the fine."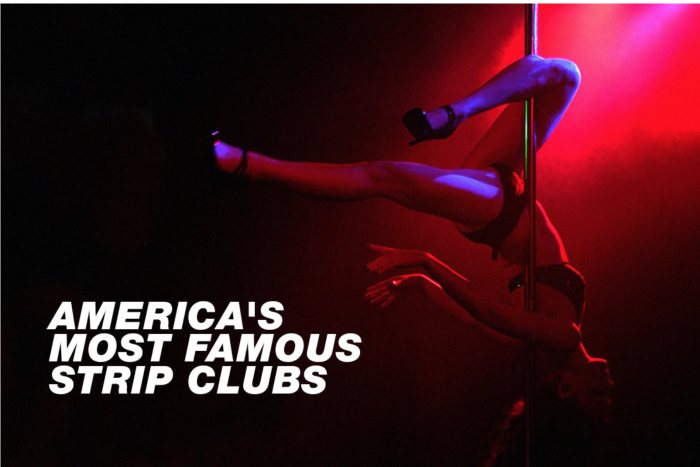 On his 1999 album, Bigger & Blacker, comedian Chris Rock immortalized strip club rules and regulations with "No Sex (In the Champagne Room)" which was a comedic – albeit true – confessional about how one should act inside a place where sexuality, booze and money all converge and the lines often become blurred between want and need.
While other sexually-charged brick and mortar locations like the peep show and pornograpic movie theater have gone the day of the dodo due in large part to the ease in which people can let their freak flag fly from the comforts of their own home, the strip club continues to flourish in today's culture.
In the last year alone, three high-profile figures in the world of sport and music have stated or initiated their intentions to open up their own clubs. T.I. opened V Live in Atlanta in June of this year after a reported 1,600 would-be dancers showed up to work in the club – of which only 100 were hired. An extension of other V Live properties in Houston, New Orleans and Dallas, Drake immortalized the sin bin in "No Tellin," rapping, "V-Live, I order that Alfredo pasta then eat in the kitchen like I'm in the mafia."
Floyd Mayweather announced "Girl Collection" in July of this year which will be in Las Vegas. Many speculate that Mayweather is cutting out the middle man after reports of him spending hundreds of thousands of dollars at clubs throughout the United States in the last several years.
With the recent announcement that Drake is entering into the fray with a "new dance experience" in Houston tentatively called "The Ballet" which is scheduled to open sometime in 2017, we couldn't help but wonder who currently sits atop the strip club hierarchy – in terms of ambiance, dancers, food and quirk-factor?
Penthouse Executive Club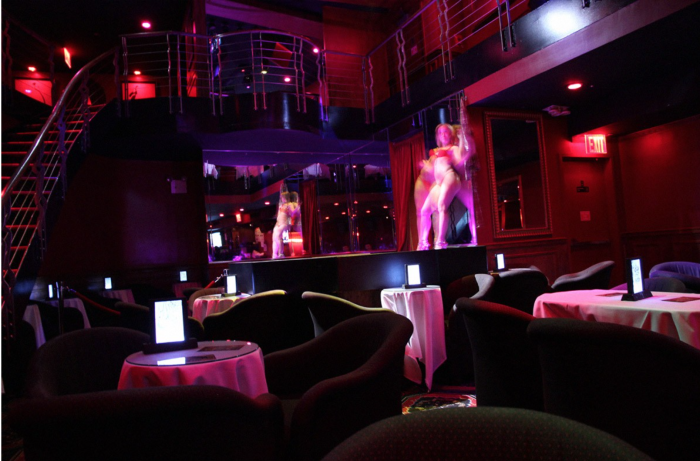 Where: New York City
Why it's notable: The food
Most people give little thought to the kitchen and menu when choosing a strip club. Not only are you possibly cheating yourself out of a killer buffet, but you might even be missing out on a dining experience that is Michelin-quality. Enter, The Penthouse Executive Club, whose restaurant, Robert's Steakhouse, is serving up prime cuts of Gold label Kobe beef, New York strip steaks and sesame crusted Yellowfin Tuna with buckwheat soba and peanut dressing which ends up costing the average patron $516 USD for a meal, according to Bundle.com – ranking it as #12 on a "most expensive meal" list behind notable institutions like The French Laundry in Yountville, California and Alinea in Chicago.
Frank Bruni at The New York Times called his medium-rare porterhouse steak and onion rings a "possibly perfect meal." While some may be off-put by the idea of combining a strip show with pricy cuts of meat, the ambiance is more indicative of a restaurant than anything else – boasting 10,000-square-feet with with high ceilings, two-story atrium and a South Beach vibe.
Wale and Jerry Seinfeld have even argued about this very topic. "I understand chicken and naked women, but I'd rather just have the chicken," Seinfeld told the rapper during a hilarious exchange. "I can't eat chicken and look at the strippers at the same time. How 'bout oatmeal and strippers?"
Magic City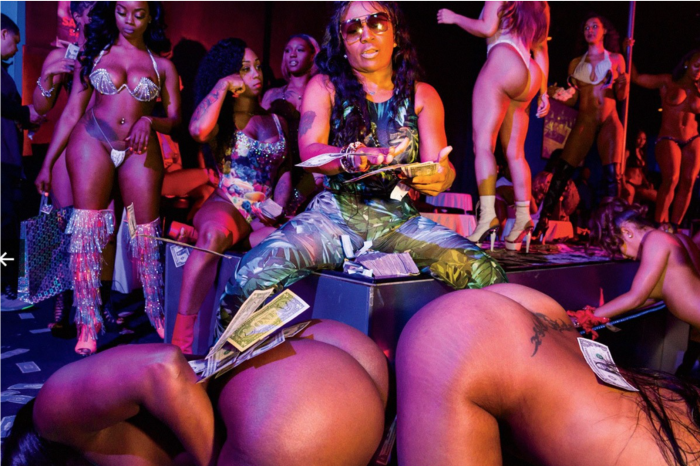 Where: Atlanta
Why it's notable: The music
GQ has called Magic City in Atlanta, "America's most important club" because of its ability to make or break a star in the hip-hop world. Dancers and patrons alike ultimately serve as the perfect barometer for whether a particular song can cut through the chaotic environment and truly make people want to get up and move. "You get the finest females in the state of Georgia," a patron told GQ. "You get the Who's Who of the streets in here. You can have Young Thug, Future, 2 Chainz in here on the same night. And you get DJ Esco. If Esco play your record…? Everything Esco touch out here is off the charts."
Lil Magic, the manager of the club paints a vivid picture of what it's like to party at Magic City, saying, "gorgeous strippers, money everywhere [and] hot wings. It's not a strip club if you don't have money on the floor with hot wings in it. You've got to have an eaten bone from a hot wing on top of the money with a stripper heel that is off and right there. And bottles. Plenty of bottles. And empty cups. That's the American dream."
Recently, Jeezy, 2 Chainz and Future immortalized the club with the song, "Magic City Monday." While other clubs may be considered luxurious for the decor and food, Magic City relies on simplicity which includes a small stage and bar and a kitchen at the front that turns out hot wings and chicken and rice in Styrofoam boxes. The real draw is who is attendance. "It's gumbo in there," Esco told GQ. "You can see actresses, musicians, a weed man, a killer, probably a police officer. You can find anybody in Magic City, anybody."
King of Diamonds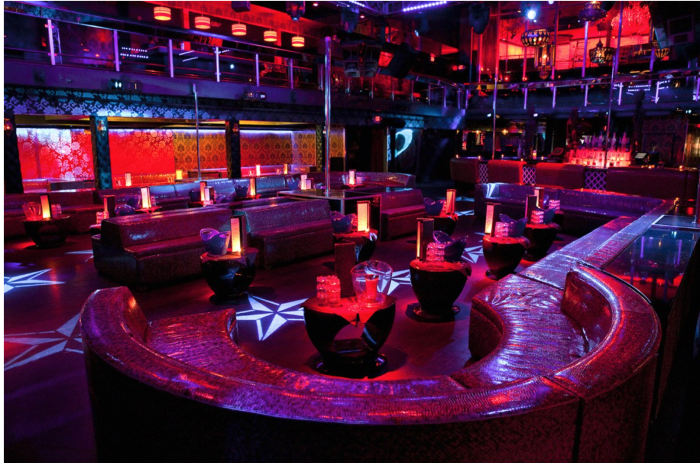 Where: Miami
Why it's notable: The excess
In February 2011, Rick Ross celebrated his birthday at King of Diamonds in Miami where he reportedly dropped a cool million dollars on dances, alcohol and food. The club's talent manager, "Disco" Rick Taylor, confirmed that the club's corporate offices had to bring a Brinks truck in to supply more cash. "King of Diamonds is the biggest strip club in Florida," Ross explained to Hot 97's Angie Martinez. "It's nothing to go in there and have 50 ballplayers and some street dudes. It ain't nothing to spend some real change in King of Diamonds. Well that night, we broke the club. They did not have a dollar to give us as we requested more money…not one dollar."
In terms of amenities, those that show up will encounter 200 dancers, 18 bartenders, 24 waitresses, and 25 security guards inside a 50,000-square-foot warehouse which also boasts a tattoo parlor, a barbershop, a sex toy store, and a basketball half-court. "It's not your typical strip club," says Lee "Q" O'Denat, founder of WorldStarHipHop.com. "It's like going to a party at LIV [at the Fontainebleau Miami Beach resort], but only bigger and with a lot of beautiful naked girls."
The club itself is the brainchild of Jack Galardi who Miami writers have called a, "low-budget Hugh Hefner," and, "the Buddha of the strip club industry." Galardi owns more than two dozen cabarets around the country, including Pink Pony South, Crazy Horse Saloon, and Jaguar.
School House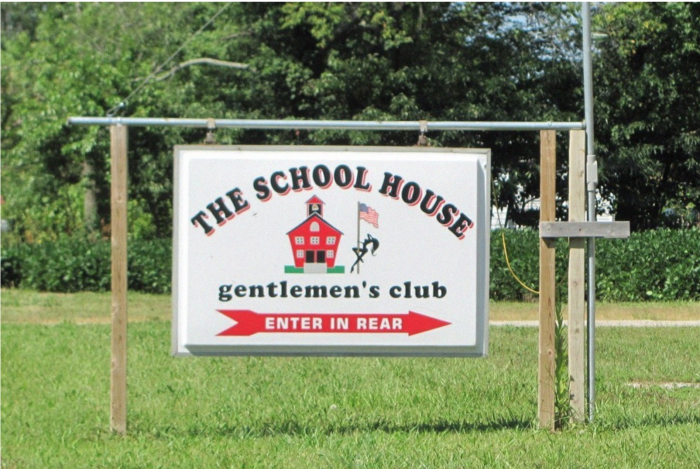 Where: Negoa, Illinois
Why it's notable: The "Weird" Factor
Admittedly, a town that only boasts a population of 1,600 people doesn't exactly scream "strip club bucket list" like other burgs in Las Vegas, Atlanta and Miami. However, the School House actually exists inside a former elementary school – making it one of the stranger strip clubs in the United States.
Once home to the Pioneer School – which for more than 50 years served as both a place of learning and a community center where people gathered to sing hymns, attend 4-H meetings and sell homemade pies – the school was sold in 2002 for $36,800 USD. The former cafeteria now features a small stage with a mirrored backdrop set that includes two stripper poles under black lights and the teachers lounge has been converted into a VIP room. In keeping with the school theme, the "Golden Rules" include, "Keep hands off dancers" and "No Hard Liquor."
Sapphire Gentlemen's Club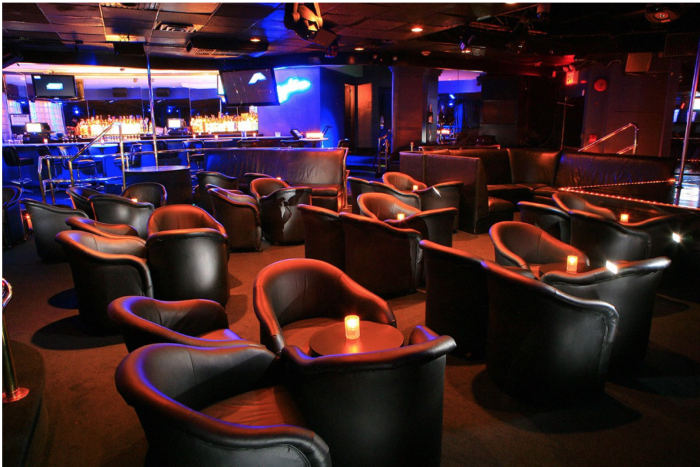 Where: New York
Why it's notable: The female to male ratio
Established in 2009, Sapphire Gentlemen's Club resides in a 10,000-square-foot, multimillion-dollar space that once belonged to another Big Apple staple, Scores. What makes Sapphire particularly unique is that 40 percent of their Sunday night clientele is female – a stark contrast to a usual male-dominated demographic. This is due in large part to the growing reputation for the party on Sunday night, called "SINS," that boasts regulars like Lil Jon, Questlove, Sting, Clive Owen, Mark Sanchez and Dennis Rodman who intermingle amidst scantily clad waitressed bearing flaming bottles of champagne.
"The naked girls create a free atmosphere, like it's the 1970s. Everybody's chill," one patron told The New York Post. "You get a crowd that goes to the 'in' spots, girls start throwing $100 bills at the strippers and, suddenly, somehow, it doesn't feel like a strip club." Choice amenities include free limo service to the club from destinations in Manhattan, a weekday happy hour with no cover and $5 well drinks. In February 2014, Justin Bieber couldn't even get into the club as a guest because "he wasn't worth the trouble."
Saint Venus Theater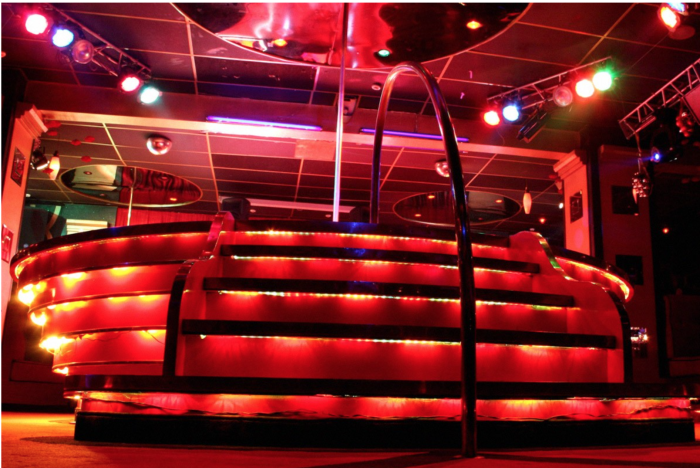 Where: New York City
Why it's notable: The women
Launched in 2009 by a man known to his employees as "Rob S.," a mysterious character who in the past is known to sport a top hat and his distaste for fake boobs and professional stripping experience, the Saint Venus Theater holds the distinction of being a "roving" club that moves locations several times a week and makes members and guests alike provide passwords for entry. But for those looking for a classic strip club experience, Saint Venus is not the place. There are no stripper poles and nudity follows a "less is more" doctrine.
If there was one major complaint about most strip clubs, it's that many of the dancers aesthetics fall more in line with tastes of yesteryear when Playboy was dictating what standard of beauty were like. The Saint Venus Theater is looking to change that with a mission statement saying there are trying to, "create something special, something positive and progressive in a world that is dominated by female exploitation and dissatisfaction. We seek to do the opposite. We celebrate the feminine in erotic themes."
Thrillist solidified their intentions, remarking, "[their] roster of 'normal' girls look more like the hot chick you walked past in the laundromat and less like someone who has 13 pairs of clear heels." Saint Venus also bucks the cardinal rule of strip club attendance; don't touch the strippers. According to The New York Post, "While it's forbidden for customers to publicly touch a stripper at a professional club, here clients can fondle or kiss a woman on her mouth, face, even her breasts in full view of other patrons."
"It's definitely not as black-and-white as it is at a strip club…girls won't dance with guys that they're not attracted to, which is kind of cool," a dancer says. "You can kind of feel it out and find a guy that you're interested in, and then approach them or wait for them to talk to you,"
In streetwear today, it's not just the clothes and shoes that have garnered much attention from on-lookers and fans, it's the mere effect of imagery, which when used properly, can evoke certain emotions and the essence of an entire brand in one single look. In fashion, a well-designed logo can leave a lasting and memorable impression, having the power to influence the public even without the aid of words. As more than just a design to splash across T-shirts or sew on a tag, it has to stand out and more importantly stand for something while revealing a company's vibe, values and history. While logos have gone on to represent some of the most powerful brands in the world – think Nike's Swoosh and adidas's Three Stripes – sometimes it's not just the logos, but the loveable characters behind the brand that have become the popular culture mainstays. Here we've complied a list of streetwear's most iconic characters, so large in personality that one look is instantaneously synonymous to the brands from which they originated. From the loveable Baby Milo to the classic Polo Bear, read on for our favorite picks.
Baby Milo – A Bathing Ape
Considered as one of streetwear's founding labels,
A Bathing Ape
has risen to popularity since its inception in 1993. Known for its ubiquitous Ape head, the brand gave birth to an even more lovable, highly recognizable character, Baby Milo. Baby Milo, more sociable than his Ape head big brother, can be seen amongst the likes of Kid Cudi, Snoop Dogg, Mario and more recently hanging out with the characters from
Street Fighter
. Though it doesn't end there, the baby monkey has a closet full of enviable gear ranging from
Avengers
costumes to Han Solo's iconic outfit to an array of BAPE Shark Hoodies.
"Companion" – KAWS
Created by New York-based artist KAWS (Brian Donnelly), the figurines with its signature X's painted over their eyes and Mickey Mouse hands, have always been in the forefront of the brand as well as appearing on the now defunct OriginalFake. The original KAWS Companion can be seen popping up all over the world as large-scale works from Hong Kong to Switzerland, to showing up on Japanese casual wear Uniqlo. Companion even saw a MTV
moonman
iteration for the 2013 VMAs.
Cool Cats – The Cool Cats
The cool cats from the now defunct Parisian creative collective
The Cool Cats
, created by Ed Banger founder Pedro Winter (aka Busy P) and La MJC founder Michael Dupouy, have been globally sought after since its introduction in the early 2000s. Seen gracing the fashion forward streets of Paris to the music-filled deserts of Coachella, the cats were designed by Ed Banger Records' illustrator So-Me. The gang of cats even teamed up with notable streetwear labels Lacoste and Stüssy and, of course, appeared gracing members of the Ed Banger family and in music videos such as Justice's
"D.A.N.C.E."
Polo Bear – Ralph Lauren
Though initially Polo was not designed as a streetwear label, it has certainly become one. Starting in the late '80s, the brand grew a cult-like devotion with its followers who brought Ralph Lauren's luxury onto the streets, making it not just a signifier of affluence and wealth, but also an early predecessor to the combination of high fashion and streetwear that is impossible not to see today. Seen as the best-dressed bear in the world, the brand's most famous unofficial mascot is the iconic Polo Bear. 'Lo Bear has been seen hobnobbing with celebrities, written about in leading print publications, and even appeared on Kanye West's cover of his 2004 debut,
College Dropout
.
Astronaut – Billionaire Boys Club
Born in Japan and established by Pharrell Williams and NIGO of BAPE, Billionaire Boys Club came about in 2005. With the logo created by graphic designer SK8THING, the spaceman aims to evoke and allude to a sense of exploration and discovery. With Pharrell's fascination with all things space, the astronaut can be seen appearing on an array of clothing to iPhone cases and USBs.
Sect – Toy Machine
Created in 1993, the skateboarding company is home to some of the most recognizable characters in the skate world. From the yellow-horned, red monster to various robots, the orange Sect is perhaps the fan favorite. Appearing in animated shorts made in conjunction with Ed Templeton to showing up as tattoos on the arms of dedicated fans, it's no wonder one look at the alien will have you wanting to buy a new deck and heading back to your skating roots.
Lord Nermal – Rip N Dip
The infamous finger-giving cat was created by Los Angeles clothing brand Rip N Dip. Known for his hidden vulgar language, Lord Nermal can be seen frolicking around greenery and hanging out with Mexican painter Frida. Nermal's favorite place to stay, however, is the front pocket of your shirt.
Adam Bomb – The Hundreds
Before the iconic Adam Bomb character was created, "Breadman" was the first mascot for the West Coast streetwear brand. Though "Breadman" never caught on, eventually Adam Bomb came about. The Adam Bomb name – not "Atom Bomb" or "Bomberman" – is the name of an existing
Garbage Pail Kids
character… a set of trading cards designed to parody the
Cabbage Patch Kids
dolls. The Adam Bomb, which represents how The Hundreds have "structured everything in a way where [it] truly never explodes," has been seen infused into the Grateful Dead's logo to being dressed up as an Oakland Raider.
André the Giant – OBEY
What began as a propaganda-inspired sticker of André the Giant, created by street artist and founder Shepard Fairey, blew up and evolved into an international movement. When Fairey's "André the Giant Has a Posse" sticker started to earn notoriety, he started to splash his designs onto T-shirts to better express his message and work in activism. A lawsuit threat in 1994 spurred Fairey to stop using the trademarked name André the Giant, who then altered the work stylistically and semantically into what we now know as the OBEY Giant. Based on an allegiance to media and popular culture in the guise of counterculture, the stylized André The Giant face continues to be reproduced on clothing and home décor and showing up on the streets of New York to Greece.
BE@RBRICK – MediCom Toy
For fans of not just streetwear, but the life, art, and culture surrounding it, the collectable designer toy is definitely a familiar face. Created by the Japanese company, the toy resembles a cross between a bear and MediCom's Kubrick designs. The cartoon-styled representation of a bear started out as a free gift, which has since grown to becoming a coveted collector's item for adults worldwide. The streetwear cool bear can be seen gracing tees with notable brands such as BAPE, Stüssy and fragment design to receiving "makeovers" from artists such as Stash and KAWS to fashion designers which include Karl Lagerfeld and Vivienne Westwood. With any pop culture character you can think of, BE@RBRICK has "been there, done that."