Monday, January 30, 2017
The LOX are back with their brand new visual for The Family directed by Itchy House Film. This track is featured on The LOX recent project titled Filthy America… It's Beautiful, which is out right now.

Dave East is back with the release of his latest visual called It Was Written produced by Mr. Authentic and directed by Joe Puma.
Sunday, January 29, 2017
Grammy-award winning musician Lenny Kravitz has established himself as a quintessential rockstar figure and musical provocateur. As of 2003, he added another accomplishment to an already lengthy list: he opened Kravitz Design, a creative firm focusing on commercial and residential design. With a client list that includes Swarovski, Fred Segal, Leica and more, the musician has well and truly shifted career paths.
His latest collaboration comes in the form of a limited edition Rolex conceptualized in partnership with Swiss timepiece makers Les Artisans de Genève. Like anything Kravitz does, it's an epic piece of work on par with that never-ending scarf he stepped out in all the way back in 2012 #NeverForget.
We caught up with the musician turned design maven to discuss inspiration, design and his most treasured timepieces…

What is the ethos behind Kravitz Design?
For me it's about creativity. We work in so many areas – we do interiors, architecture, products, wallpaper, carpets, lighting and graphic design. We also do branding, creation and packaging. It's really about using our creativity to beautify and inspire. When I'm doing interiors – especially the ones where you really have full creative freedom – it's about creating an environment for people to feel so comfortable and at ease. We want them to become inspired to live and feel better.

Are there particular time frames or design movements you draw from?
I've been into all kinds of things, but funny enough, when I first got into design I was very into Art Nouveau. That sort of sparked my interest in design – I was into Majorelle and all those people. Where I am now, the thing I continually go back to is Mid-Century Modern, both European and American. I'd say that period of the late '50s through the '70s is my favorite.

What was the design inspiration behind the limited edition Rolex?
For me a watch is a really beautiful instrument. I don't so much care what time it is but I do love watches, and I love how they're constructed. I've always been a fan of vintage Rolexes and I own a few. The Daytona is a classic watch. When you think back to guys like Steve McQueen, cats like him had these beautifully designed sport watches. I wanted to do something like that. I wanted it to be beautiful and elegant but at the same time very down-to-earth.
I wanted it to be something you could strap on and wear every day. That's why I went with the leather strap as opposed to a metal bracelet or a gold and steel strap. What I like about the leather is that as you use it, it creases the material in the same place, and the oil in your hands start to change the color and you get this beautiful patina.
It's just very simple and it's also sort of a companion to the Leica camera I designed in brass and black lacquer paint. When I have them both – they're the two things I have with me most of the time – they fit together.

How did you honor the vintage Rolex inspiration while still adding a modern touch?
Well we did something interesting which hasn't been done with a Rolex before. We had the classic Daytona but on the back you can see the movement. We also blacked it out so where the gold would be on the strap we used black gold, and also blacked out the face.
We also created the stereo box. When you buy watches they tend to come in these big boxes that end up in the back of your closet or at the top of your shelf where you'll never see them again. I thought it would be interesting to turn the box into something that you could actually use.

Do you often find yourself referencing music in your design?
Absolutely, but sometimes in a very abstract way. For instance, I was doing this house in Paris and the inspiration for the house was Helmut Newton, Yves Saint Laurent and Miles Davis. Now what does that mean? I know what that means: It's about tone and color and mood and a certain piece of music. So when I was building this house I was inspired by Miles Davis's scores from the movie Ascenseur pour l'échafaud (Elevator to the Gallows). There's a composition called "Florence sur les Champs-Élysées" and that ended up being the theme to the house. That piece of music with all of the imagery Miles Davis, Yves Saint Laurent and Helmut Newton, evoke made a complete picture.
When you think of Helmut Newton and his photos in the '70s of these nude women in opulent Parisian settings, or when you think of Yves Saint Laurent and his flair for style, color, shape and form, and his own interiors – his apartment was absolutely amazing – then you think of the music of Miles Davis and put it all together, that was the palette for that project.
Sometimes we'll be working on a project and let's say there are these very sultry, very sexy, moody colors like chocolate brown and coffee or burnt orange or burgundy, I'll say something like, "You know what, we need a little more Isaac Hayes." I know what that means because when you think of Isaac Hayes' voice, when you think of that deep baritone, it creates a visual.
Maybe that's because I grew up in New York City in the '70s with my parents who were friends with all of these actors, musicians and artists. I grew up around Miles Davis, I grew up around Duke Ellington, I grew up around Sarah Vaughan; I grew up around all of these people and we'd go to their houses. The inside of their homes were never about money.
An actor might be doing Off-Broadway and they might have a studio or a one bedroom apartment but it was the way they put things together. These peoples' houses looked like a million bucks and it was because they had taste. It was because they knew how to find things and make things and reclaim things. That's how I started designing – I started by picking things up off the street and repurposing them. So to answer your question, music definitely inspires my design all the time.

Do you have a favorite project?
They're all fun and they're all challenging. When you have a lot of money it's challenging, when you're working on a smaller budget it's just as challenging and just as fun. Our CB2 project was exciting because we're always working in such a luxury world and making furniture that's very, very expensive. We thought it would be really great to be limited and have to say, "This thing is going to cost 75 bucks or this thing is going to cost $200." The goal is to still make things that I could be happy with and use. I've even got my CB2 table – the little gold one with the wood top – right here next to my $50,000 Paul Evans console and they completely complement each other.
Everything that I make I use. I have two CB2 lamps here in my kitchen now. If I'm not using it I'm not making it and if I'm making it I'm going to be involved every step. Good design is being able to put a $100,000 thing next to a $20 thing. If it looks right and it works then it works. It doesn't have to be expensive; it's all about the high meets low for me.

You've been collecting for over 20 years, what's your most prized timepiece?
I'd have to say my favorite watch – just because of sentimental value – well, there are two of them: One is a Seiko watch of all things, from the early 70s. That was my father's watch and he wore it to work every day. My dad was a journalist with NBC news in New York City at Rockefeller Center. I keep his watch next to a picture of him.
I also have a Cartier watch. I forget the model number but it looks like the tank except it's fatter and longer. The point is it belonged to Bobby Short. Bobby Short was a singer and pianist who performed for 40-something odd years at the Cafe Carlyle at the Carlyle Hotel in New York City. He specialized in Cole Porter and Gershwin and sang all the great show tunes of the old days.
He was quite an elegant man who I saw often in childhood. Anyway, he wore a tuxedo every night with these beautiful slip-on tuxedo shoes in velvet. He would wear no socks and this Cartier watch. So after he passed away I got his watch and now it's on my mantlepiece in Paris. It's something that's very special to me.
Find out more insight into how luxury watches our made check out a behind-the-scenes look at a Rolex customization process here.
Automotive designer
Antonio Paglia
recently took the time to render how a futuristic Alfa Romeo sports car would look like. In keeping with Alfa Romeo's long history of keeping style at the heart of every car it produces, Paglia designed the Alfa Romeo C18 Concept.
The concept design includes LED headlights and daytime running lights, including the brand's classic triangular front grille which also boasts LEDs. The C18 Concept also adopts a sleek, front-engined layout and a streamlined area for the windshield that stretches above the driver and passenger's heads.
There's no telling if the C18 Concept will be added to Alfa Romeo's range in the coming years but it at least gives us a forecast of what sports cars could like in the near future.
In other car related news, Eagle's new
Spyder GT
boasts a 0-60mph time of less than five seconds.
Shortly after providing its web store with a full restock, Gucci has unveiled the immensely popular Ace low top sneaker in a range of new designs.
Keeping in line with Alessandro Michele's outlandish creative vision, applique animal designs including bears, tigers, and snakes feature throughout. The previously seen bug embroidered sneaker is available in new red and black colorways, while the tiger can be copped in black. For those after something a little less ostentatious, the classic Ace look is available with navy flashes instead of green.
This being Gucci, expect to pay between $530 and $590.
Combining a ruggedness with luxury, the new Kahn Land Rover Defender Double Cab Truck is definitely something to behold. The updated version of the classic SUV is the ultimate vehicle when it comes to off-roading.
The Volcanic Rock Satin paint job, combined with the dark red leather seats and satin black roof gives the Kahn Land Rover the added luxurious feel it needs to make extreme driving that much more pleasant. In addition to the wider track, the SUV also has a two inch lift on the suspension. Powered by a 2.2 TDCI, 122 hp diesel paired with a manual transmission, doesn't make it the most nimble car about but it makes up for it in it's off-road capabilities.
With no surprises, the SUV doesn't come cheap with a retail price of $88,000
Missy Elliott is back with the release of her brand new visual for I'm Better featuring Lamb, and directed by Dave Meyers, Missy Elliott,
Rick Ross is back with the drop of his brand new visual called I Think She Like Me produced by C Gutta Beatz & Jorge Pilot and directed by Ryan Snyder.

Sevyn Streeter links up with Ty Dolla $ign & Cam Wallace for her new single called Fallen. This track will be featured on Sevyn album Girl Disrupted.
As fans wait in anticipation for
2 Chainz
's next project,
Pretty Girls Like Trap Music
, he quells the suspense with a Spotify playlist curated by none other than
Karrueche Tran
. Included on the roster are weekend-ready trap hits such as "All There" by Jeezy, "T-Shirt" by Migos, "Sneakin'" by Drake, "Moves" by Big Sean, "Good Drank" by 2 Chainz himself, and more. Although the full-length
Pretty Girls Like Trap Music
studio album isn't set to drop until April 7, enjoy Karrueche's playlist until then — listen to it
here
.
Migos makes their way to the Breakfast Club to talk about their brand new album called Culture, Donald Glover,and also staying out of beefs.
Migos: Takeoff, Quavo, Offset
Today marks the 2nd year anniversary of ASAP Yams passing. To friends, Yams was a witty, charismatic enigma that brightened any room or chat room he was in. To the world, he was the man with the plan for one of hip-hop's biggest present day stars and a vision for every other artist he connected with along his path. That was the thing about Yams—no matter the circumstance—if he believed in you, he was willing to risk his reputation, time, and effort for you. Since his passing, Yams's legacy has lived on in many forms, from his musings of wisdom on Twitter to his archaeological musical taste that still defies and amazes most hip-hop writers and A&Rs. The worst incarnation of Yams's legacy is the persistent shout outs and reckless indulgence of the very drug that contributed to his death.
We all have our vices, and I'm not one to judge, but let's be aware and conscious of what we are putting into our bodies and what we are promoting others to do. Yams was a victim of influence. I'm sure he first experimented with promethazine because of its prevalence in Houston hip-hop culture, a scene he studied. Houston built a whole culture off of the slowed down feeling that lean gives its user. The candy-coated tales of "coming dine and po'ing up" would enthrall any listener. But for every pint that is poured, there is a tragic death that follows. Houston luminaries such as DJ Screw and Big Moe have all died because of complications related to promethazine use. We can no longer hide behind the guise of sleep apnea or the mixing of drugs and stand face to face with a problem that's plaguing the hip-hop community. As millennials, we look down upon crack and heroin and we won't dare eat gluten or diary but we laud and praise prescription drugs such as Promethazine, Xanax, and Adderall. It's a chain of thinking that must be reprogrammed.
As a naive youth, I always had an attitude that this won't happen to me when it comes to these cautionary tales. We all suffer from this. We think that we're too smart, too cool, and too casual to have a real drug problem. Yams's passing woke me up from this thinking. Be it weed, sugar or pills, humans as a species have very addictive personalities. We must start taking account for not only ourselves but those around us. The signs were all around us and we let Yams down. I'll never forget my last conversation with him. It's ingrained in my brain because at first I didn't know who was on the other line. He called me from a private number and was already mid-conversation before I realized who I was speaking to. His words were slurred and I barely understood what he was calling about. Needless to say our conversation didn't last long—I cut it short blaming poor connectivity.
Looking back, I wish I would have checked him or at least made him feel some type of way. Far too often, we let behavior like this slide and even egg it on as entertainment. It's evident from a cursory glance of Yams' online footprint, he was battling demons that he tried to hide with music, drugs, and jokes. Many people are fighting the same demons daily, the difference is we championed Yams' demons. We wanted to be BlackOut Boyz and reveled in his tales of drug use and mischief. Frankly, that shit was wack, but it's easy to look back at history with a critical eye. It's harder to look forward into the future with an aware mind. So let's not diminish Yams' legacy to prescription cough syrup and a double cup. He was a great man with a great vision, who taught the word to always strive and prosper.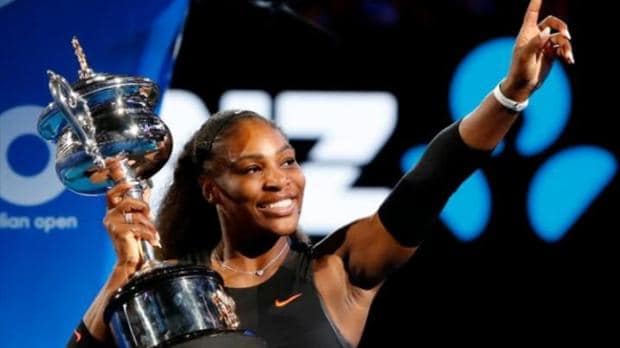 Serena Williams is alone at the top when it comes to Grand Slam achievement in the Open era.
By defeating her sister Venus Williams 6-4, 6-4 in the Australian Open final Saturday, Serena won her 23rd major title, breaking the record she had shared with Steffi Graf.
Serena has experienced some high-anxiety moments in major matches, and she did again Saturday. In the early going, she smashed her racket in frustration after falling down on the baseline, and she served three tentative double-faults in a span of four points.
However, she soon settled — and made history. Serena closed the match on her first championship point, charging the net with a forehand that Venus could not successfully return.
"My first Grand Slam started here, and getting to 23 here, but playing Venus, it's stuff that legends are made of," Serena said. "I couldn't have written a better story."
As difficult as it must have been to play against her sister, the enormous reward will likely help compensate for any mental anguish.
It's Serena's seventh Australian Open title and second in the past three tournaments in Melbourne. She also has seven titles at Wimbledon, six at the US Open and three at the French Open.
She remains one Grand Slam championship behind the all-time leader, Margaret Court, who has 24 titles in the Open and amateur eras. Court, an Australian who won 13 majors before the dawn of the Open era in 1968, was among those applauding the Williams sisters at Rod Laver Arena.
Saturday's victory also means Serena will regain the world No. 1 ranking from Angelique Kerber, who was eliminated in the fourth round in Melbourne. Next week will be Serena's 310th at the top of tennis.
Venus, a seven-time Slam champion, (two US Open and five Wimbledon) was in the final of the Australian Open for the first time since 2003.
In an on-set interview with ESPN, Serena received a letter of congratulations and a pair of shoes from NBA Hall of Famer and legendary No. 23 Michael Jordan. One shoe was red and black — the Chicago Bulls' colors — and the other was a more Serena-esque pink.
"Thank you, Michael. I can't believe I'm saying thank you Michael Jordan," Serena said. "He's the greatest."
Tennis icon Billie Jean King also sent a pair of tweets Saturday morning to honor the Williams sisters.
Source:
ESPN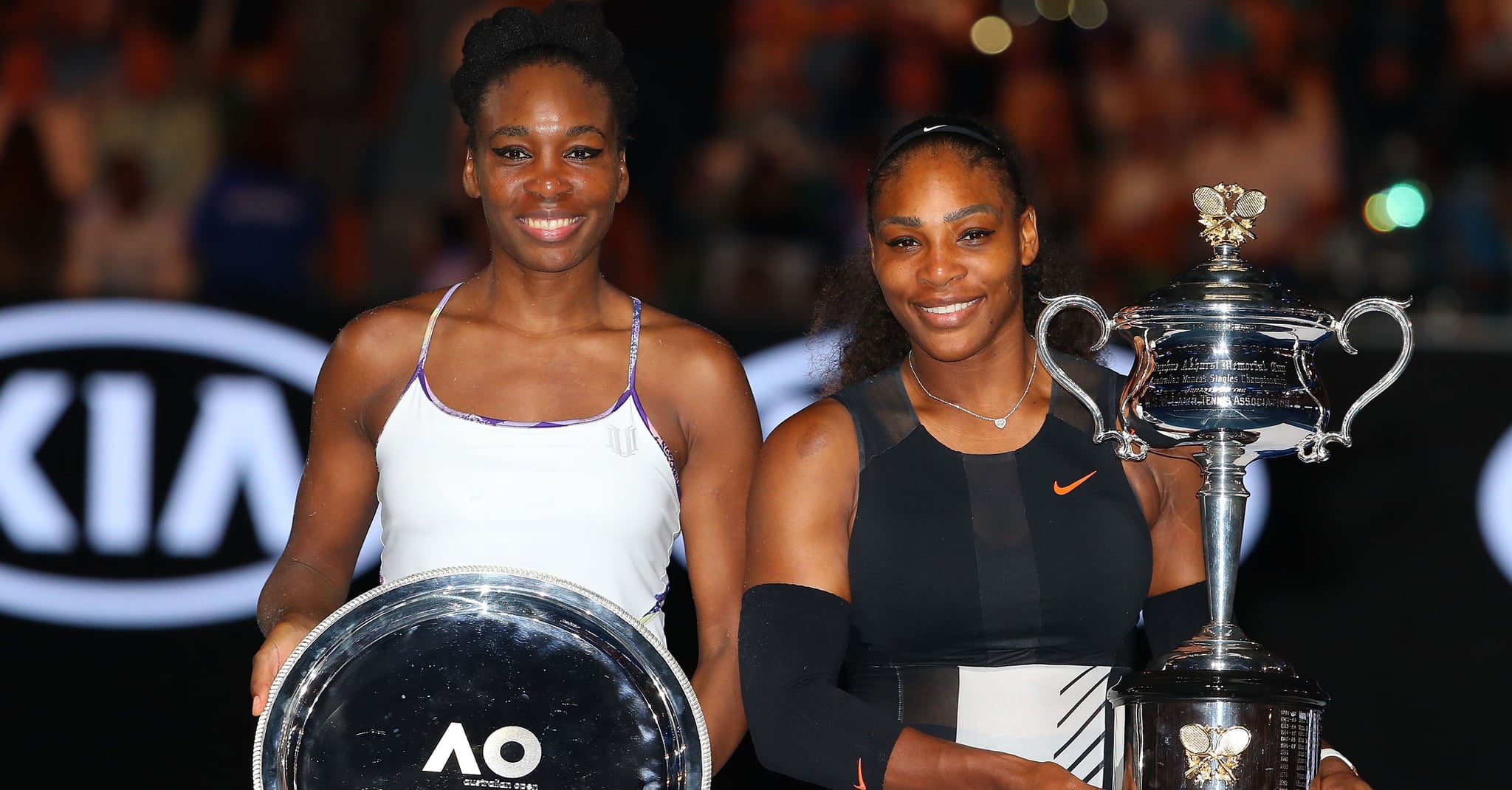 Take a Closer Look at Serena Williams' Historic Jordan Brand Collaboration
Serena Williams has done it again. Her defeat against older sister Venus at Saturday's Australian Open marks another history-making moment for her tennis career — her 23rd
major title
. Before this, the number 23 has held iconic weight thanks to one Michael Jordan and now they're both coming together to celebrate William's big win.
Williams and Jordan are both regarded as the greatest players in their respective arenas. NikeCourt and Jordan Brand now pay homage to the tennis superstar with her own new sneaker collaborations inspired by her favorite silhouette: the Air Jordan 1.
The collection counts her own twist on the iconic basketball sneaker, applying black and a shocking pink across the upper. In addition to the Air Jordan Wings branding on the lateral ankle is the number 23 — tying together the legacies of both athletes — and Williams' distinctive 'SW' logo on the heel.
Williams also offers her take on the exclusive women's NikeCourt Flare, which finds inspiration from the AJ1 in the colorblocking and is also stamped with the AJ Wings. One pair mirrors the pink colorway of her aforementioned SW x AJ1, while the second replaces the pink with red to honor the original "Banned" AJ1.
The celebratory pack will launch at Nike Soho on Saturday, January 28. Then both NikeCourt Flare colorways drop on the SNKRS app on Monday, January 30, in the U.S., Western Europe and Japan. The Air Jordan 1 will also release on January 30 via
Nike.com
in the U.S. only at 10 a.m. EST. Before then, take a closer look at all three shoes above.