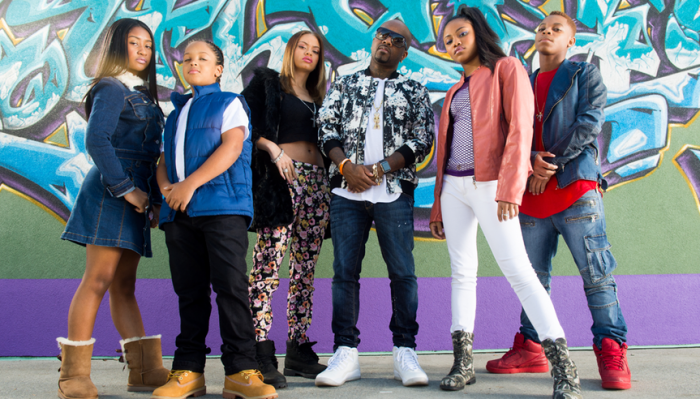 Sidnee Michelle: How did you/the creators of
The Rap Game
research and select the contestants for the show?
Jermaine Dupri: We had three key things we looked for: Rappers from 8-16 years old;, they had a strong, active following on the internet; their parents had to be involved with their management and development. I was nervous when casting my artists, like, what if none of them have what it takes? But then I trusted my own taste, my team and the individuals, and we ended up finding great candidates. It's not a competition show, but it more so puts everyone on an even playing field and sees who will excel. To have a platform this big to be able to find new talent is what excites me the most.
Sidnee Michelle: With all your success of not only launching your career, but the career of many young superstars in the past, what knowledge and experience did you draw on when selecting contestants for
The Rap Game?
Jermaine Dupri: I have this thing where I hate repeating myself and my accomplishments. With this show, I went against that. I was just telling someone how I met
Usher
before he was signed to LaFace Records. I met him at a Kriss Kross concert, and I didn't show any interest in him because I'd just worked with Kriss Kross and had my eyes on the singing group Escape, so I didn't want to go down in history as the guy who only worked with kid artists. So when this opportunity for the show came up, I didn't want to repeat working with kid artists on top of doing it via reality TV. But I also said in my head, this is second nature to you and will come across as such on a major network, why would you pass this up?
Sidnee Michelle: What is it like working with Lifetime, a channel that is not exactly immersed in the hip-hop culture?
Jermaine Dupri: I'm happy to be one of the first in that space. I'm happy to introduce people to Lifetime who aren't normally Lifetime viewers. I'm sure it's going to matter when we look at season two and beyond. I say to myself, "Jermaine, your show helped bring additional viewers to Lifetime." I think that's the dopest thing about this whole thing: to see I helped them as a network just as much as they helped me, my legacy and
The Rap Game
artists. Someone told me on social media the other day, "Jermaine, I grew up listening to your music in the '90s and now I'm tuning in to your show every week in 2016."
Sidnee Michelle: Once a finalist for
The Rap Game
is chosen, what happens next? Do they partner with you and So So Def? How do you see them being a great addition to the label? Who else is signed to the label now?
Jermaine Dupri: Well the final artist after eight weeks gets to come work with me as their producer. We put out a record and you become an artist on So So Def. My company was built on new artists and finding new talent. So this new artist will only be the start of a newer and better So So Def. I see So So Def becoming that college that everyone wants to go to. I want it to get so big that people don't even know I own it. I want it to carry its own weight; separate from me and my past accomplishments. In the near future, I want So So Def to be huge, to be heavy.