By Phil W. Hudson, Atlanta Business Chronicle
The
Atlanta Hawks
know a thing or two about basketball's "string music." But as one of the larger purveyors of Atlanta's music scene and having partnered with
Live Nation
to bring corporate partnerships to the Verizon Wireless Amphitheater, the club is a MVP in the music business too.
The Hawks' games have nearly become synonymous with their pre-game, halftime and post-game concerts, which typically feature some of Atlanta's biggest names in the music industry. In the last two years alone, a few of the stars who have entertained Philips Arena's crowd of nearly 18,000 include T.I., Ludacris,
Jermaine Dupri
,
Big Boi
and 2 Chainz.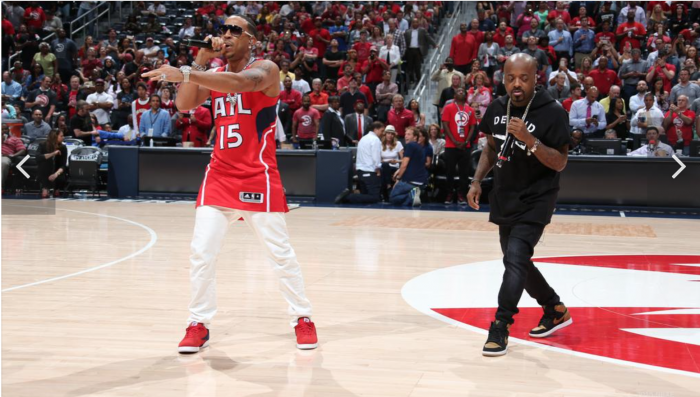 But as the 50-50 co-owners of a joint venture with Beverly Hills, Calif-based Live Nation Entertainment Inc. (NYSE: LYV) for the Alpharetta, Ga., venue, the team has solidified itself, Philips Areana and team CEO
Steve Koonin
and the arena as major players in the music industry's big leagues.
Koonin sees growing his operation's footprint in music business as "a very, very important piece of our future."
"I sit on the board of the symphony [Atlanta Symphony Orchestra] and had spent a lot of time understanding the symphony's goals so we approached Live Nation to partner with us," he said. "We're 50-50 co-owners of this joint venture. We're doing sponsorships, which is what we do really well and they're doing booking and ticketing, which is what they do really well.
Peter Conlon
[president of Live Nation Atlanta] and I are managing this locally and we are incredibly excited to be broadening our music footprint, which we want to continue to grow."
Koonin said Live Nation has been Philips Arena's biggest promotional partner for quite some time.
"We have the preeminent building in the Southeast," Koonin said. "Artists who are on tour love playing Philips Arena. Atlanta is the capitol of the Southeast and that's why we got Adele, Bruce Springsteen and have the biggest and the best acts."
Koonin noted the concerts at the Hawks' games will continue because they're part of the fans' culture.
http://www.bizjournals.com/atlanta/news/2016/03/07/the-atlanta-hawks-are-in-the-music-business-too.html