My, how we forget so fast. Tracking the life cycle of brands provides an opportunity to look in the rearview, and see what draped the cool kids before us. And when we're peering back, we notice those life cycles repeating as today's streetwear brands—us included—vault into Postmodern reverence for the gear that came before. It is, in fact, stylish to champion OG styles. Topically, in the sportswear kingdom, we must call to arms an oft forgotten forefather of fresh: FILA.
Once upon a time, there shined a mighty brand with with a raised F, stitched in a box.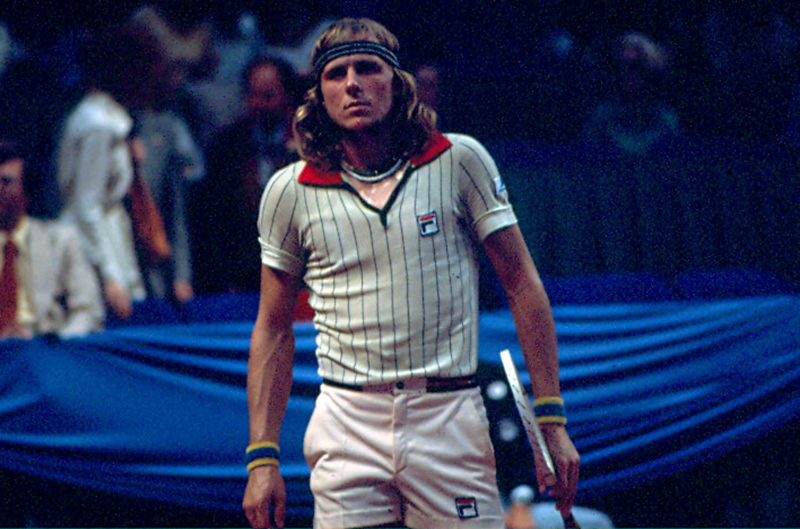 Bjorn Borg.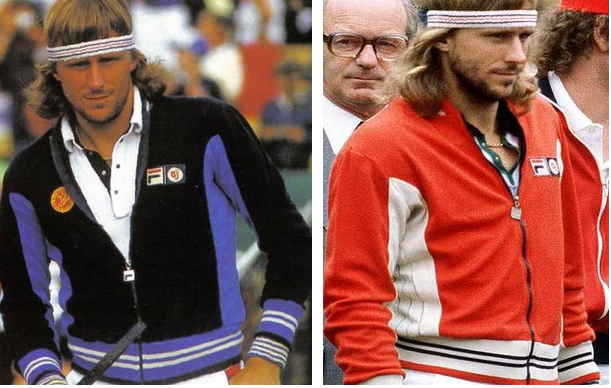 Fila had a moment in fashion time where they were crushing it. Circa 1973, Fila introduced the "White Line" collection, and draped it over tennis legend Bjorn Borg. The "White Line" garments were designed with a form fit in mind to complement an athlete's movements. With a stalwart color scheme, featuring bold stripes, robust piping, and provocative collars, designers Pier Luigi Rolando and Alessandro Galliano sought to sneer at conservative sportswear.
Brash without being crass. Their design put quality materials into play, and by 1976, Bjorn Borg cleaned up Grand-Slam tournaments, sporting that iconic long hair and headband, that flying red collar, blue pinstripes, and that famous F-Box logo.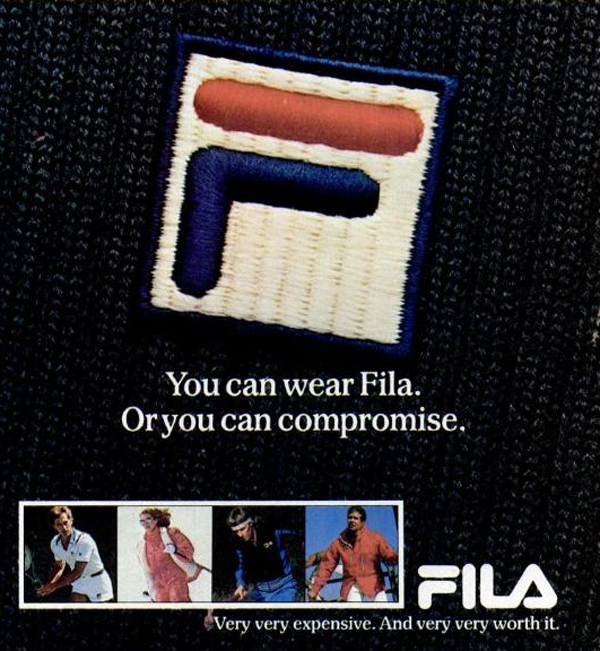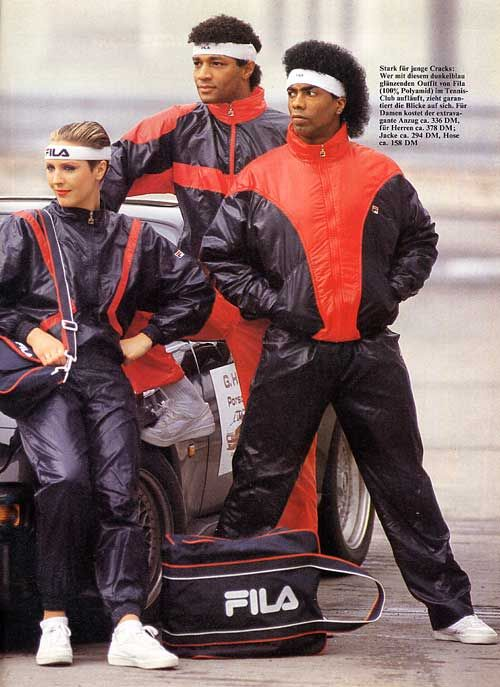 An old Fila ad read: You can wear Fila. Or you can compromise.
And there was some truth to that. Aside from their irreverent aesthetic, the textile composure of the garments combined materials designed to hug the wearer close without being overbearing. Wool, cashmere, and acrylic blends aided the form fitting with a capital F. Functional design ingenuity that complemented motion.
A brand focused on performance, fashion, sophistication, premium fabrics, and Italian craftsmanship. You can wear Fila, or you can compromise.
From the outerwear collection's debut in the early '70s, those vibrant colors and robust lines held a grip on cool going into the futurist '80s when the brand introduced footwear. Fila soon was sponsoring tennis legends Monica Seles and Boris Becker, and by the '90s, the style powerhouse had made their way to the NBA to nice guy, Grant Hill, and from Grant Hill himself, onto the feet of a freshly emancipated Tupac Shakur in the now iconic photo from the
All Eyez on Me
inlet.
When Fila's Grant Hill signature line debuted in the '90s, it changed the game during an era when the major competition was charging full speed with Air Jordan, Reebok, and adidas.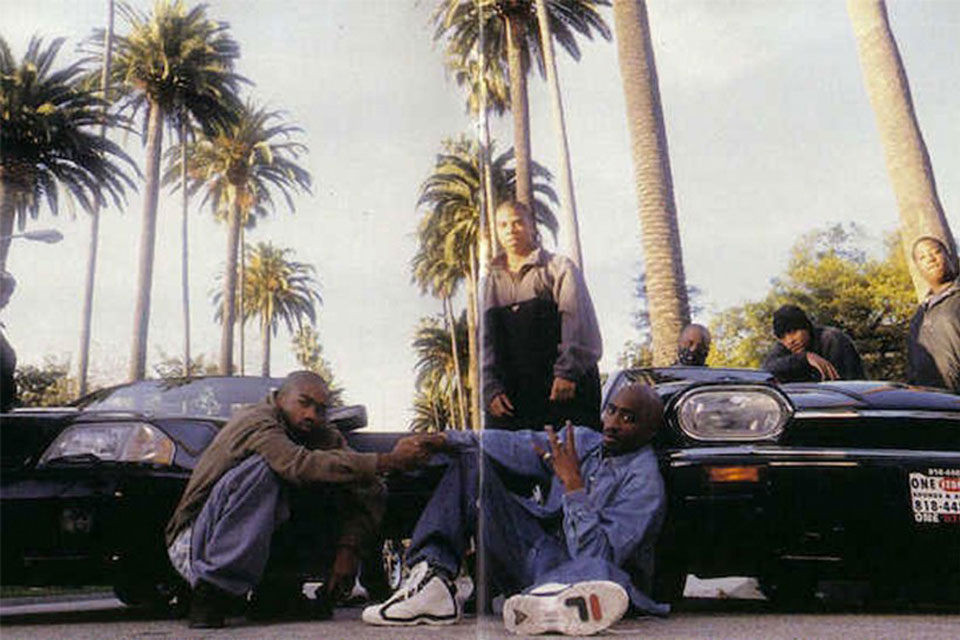 The late '80s and '90s soon saw Fila's ubiquity in hip-hop culture, as it was already the it-brand of yore that stood for luxury. Years later, in light of Nas's Fila collaboration after a long history of side-stepping brand collabs, the rapper reminisced on that era, telling Billboard, "My best friend Will and I loved Fila. It represented prestige and everything that was cool to us. When Will passed, we buried him in a black Fila sweat suit, so doing a deal with them has a lot of significance for me."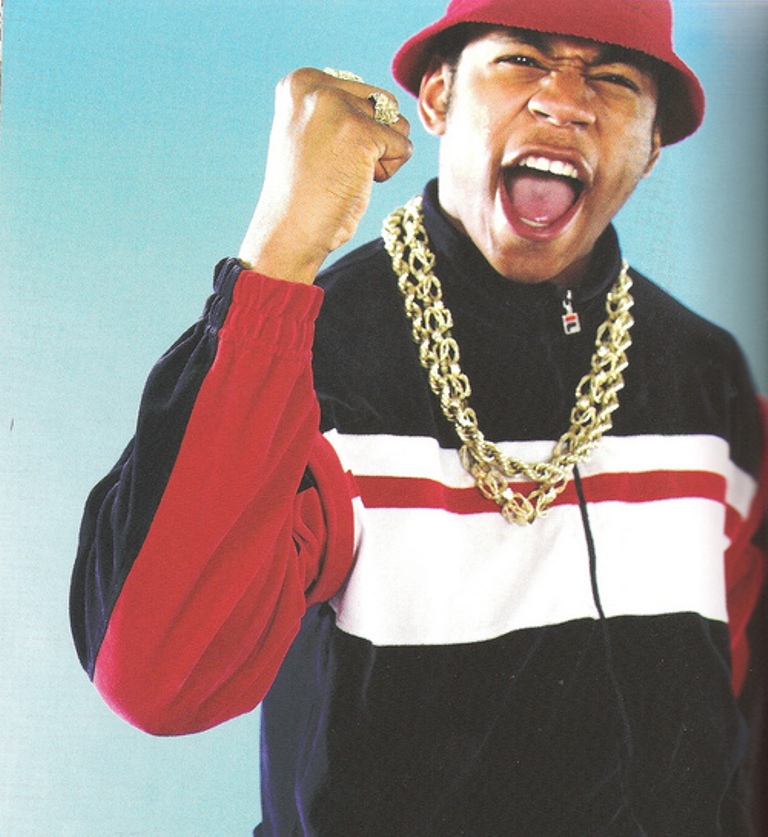 LL Cool J in 1986, wearing a Fila track jacket and Kangol Bermuda hat.
The Hundreds' recent collaboration with Fila is largely inspired by those latter days of Fila's reign, where Fila canvas slides (with the velcro!) and white socks adorned the feet of Asian squads hopping in and out of souped up Honda CR-X's in Southern California, complete with Motorola beepers and Marlboro Reds.
The Hundreds is proud to reach back to this classic California look, and big it up to sportswear auteurs before us.