Christina Aguilera opened the festivities with a tribute of classics dedicated to the Big Apple such as New York, New York, On Broadway, Living for the City, and New York State of Mind. Christina will soon later be jointed by fellow NY-native Nas who preformed his classic N.Y. State of Mind, which was on his debut album Illmatic.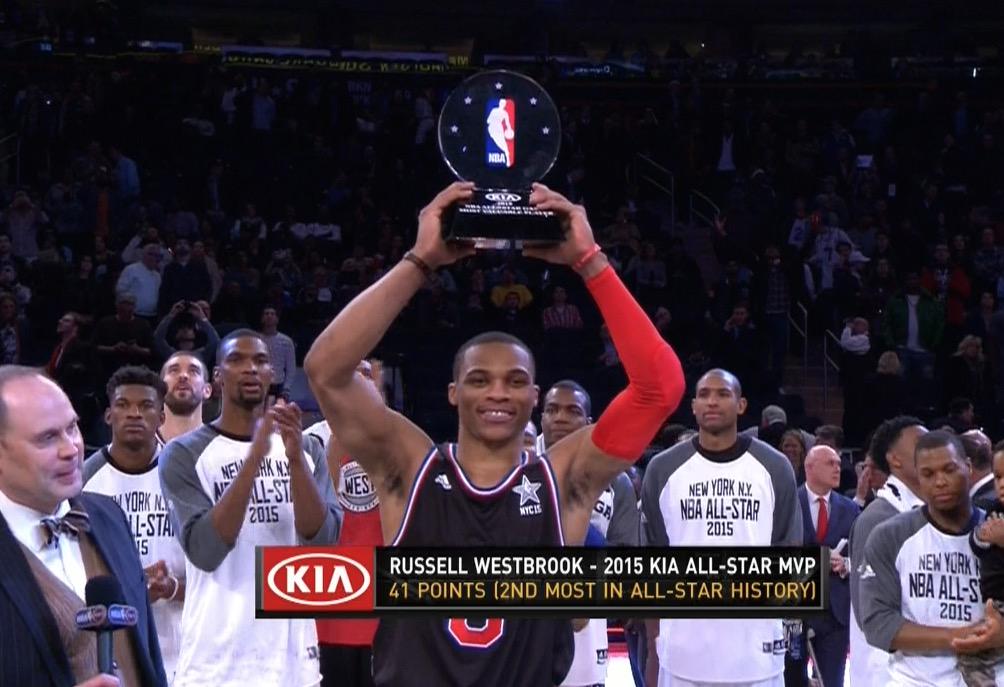 Russell Westbrookscored 41 points, one shy of the NBA All-Star Game record, and the Western Conference beat the East 163-158 on Sunday night.
The Oklahoma City speedster had a record 27 points by halftime and closed out the scoring with two free throws, falling one point shy of Wilt Chamberlain's 42 points in the 1962 game. He was voted the game's MVP.
The NBA's return to New York showed off everything about the Big Apple, and Westbrook stole the show on one sports' biggest stages.
By the time Frank Sinatra's "New York, New York" played after the game, it was clear Westbrook was king of the hill among the NBA's best.
James Harden added 29 points, eight rebounds and eight assists for the West, which built a 20-point lead in the first half and then pulled away after it was tied at 148 with a little more than 4 minutes remaining.
LeBron James finished with 30 points but couldn't lead the East to the victory in his favorite NBA arena.
Harden's 3-pointer snapped the final tie with 4:02 to play and Chris Paul followed with consecutive baskets. Westbrook's fifth 3-pointer put it away at 158-149 with 2:22 to go.
Atlanta's Kyle Korver made seven 3-pointers and scored 21 points for the East, while Washington's John Wall had 19.
Big brother Pau Gasol won the jump ball against Marc to begin the first All-Star game featuring two sibling starters, but for a while it looked as if that would be the East's only win of the night.
The West shot out to a 20-point lead behind a record 27 first-half points from Westbrook, but the East chipped away and cut it to 83-82 before pop star Ariana Grande's halftime performance.
Zach LaVine went between the legs for this amazing first-round jam and scored a perfect 50.
Stephen Curry took down fellow Splash Brother Klay and former Champion Kyrie Irving to win the 2015 Foot Locker 3-Point Contest
Fabolous
, Nelly and Kevin Heart joins First Take's Stephen A. Smith and Skip Bayless at the debate desk in New York City, for the NBA All Star Weekend.